City Island is ultimately the end goal of the game. It can only be reached by using a boat (recipe acquired through the Large Coconut Quest)
There is a map floating around that is correct on all locations EXCEPT the city island. City Island is reached by going 60-65 paces up then just keep going east until you see it.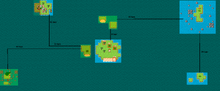 After completing 100% of the
Book
visit the city and reload to the main island. Now you can obtain the recipe for
Mysterious Engine
. Once you get that recipe you can enter the City and access the Antique Shop. You can only enter the City during the daytime.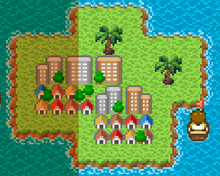 Ad blocker interference detected!
Wikia is a free-to-use site that makes money from advertising. We have a modified experience for viewers using ad blockers

Wikia is not accessible if you've made further modifications. Remove the custom ad blocker rule(s) and the page will load as expected.