Purple Yams can be acquired by punching a certain pile of leaves on Lion Island. To get to Lion Island you will need a Boat and a Bridge.
Purple Yam can be:
Eaten in the EAT menu for 20 stamina.
Turned into Purple Yam Cream when using the Mortar in the TOOL menu. 5x Purple Yam will turn into 1x Purple Yam Cream.
Where to Find
Edit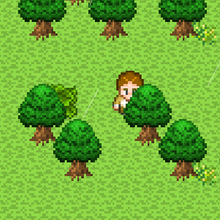 Go to Lion Island (Click the link for information on how to get there).Once you enter the forest head west. There should be a zig-zagging line of trees here (You will need to walk forward a tiny bit). Behind one of the trees is a bush just like any other, except punching it will provide you with 1x Purple Yam not a Potato. This bush regrows every four minutes.
Ad blocker interference detected!
Wikia is a free-to-use site that makes money from advertising. We have a modified experience for viewers using ad blockers

Wikia is not accessible if you've made further modifications. Remove the custom ad blocker rule(s) and the page will load as expected.